Individual Special Tours »
Guided Tours through the Visitor's Mine:
Wednesday to Saturday
10:00 am   |   11:30 am   |   1:30 pm   |   3:00 pm
Minimum age for children: 6 years
1.3 mi (2 km) round trip in 1.5 hours
Adults € 9.00
More Info
The tour includes a 1.5 hour tour of the Zinnwald mine. The 1.3 miles (2 km) long tour takes you past impressive expanses and historical mining sites. They testify to the history of mining, which you can experience first hand.
Since stooping is required in stretches, we recommend moderate fitness. You should also pay attention to sturdy footwear and warm clothing, as underground temperatures are around 46 °F (8 °C).
Capes, lights and helmets are provided, backpacks, bags and your valuables can be secured in lockers.
For families with children up to the age of 6, we recommend to visit the tunnel in the Altenberg Mining Museum.
Adults € 9.00
Reduced € 6.00
Family Ticket € 24.00
Adults with Altenberg Guest Card € 8.50
Reduced with Altenberg Guest Card € 5.50
Family Ticket with Altenberg Guest Card € 22.50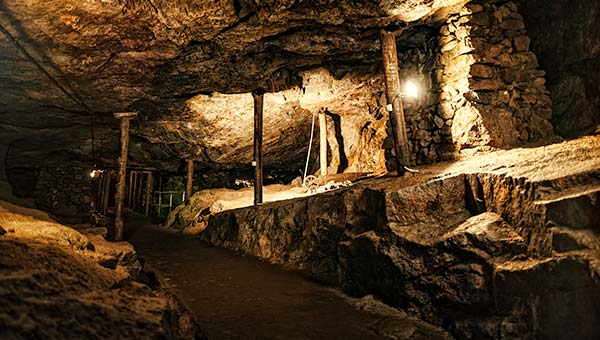 Special Guided Tour:
every Wednesday   |   1:30 pm
every Saturday   |   1:00 pm
Minimum age: 14 years
1.6 mi (2.5 km) round trip in about 2.5 – 3 hours
Adults € 15.00
More Info
Join the Great Adventure Tour and experience an extensive tour through the Deep Bünau Tunnel, Zinnwald.
Every Wednesday at 1:30 pm an experienced group leader will guide you through the visitor mine. In the 2.5 hour guided tour you will visit vast expanses and narrow tunnels and places that are hidden from many: steep fall locations, old rescue shafts, underground waterfalls and much more …
Hearty food from the region!
On request, we offer you hearty mining food for your tour!
Individual

menus

according

to

your

wishes

Only

by

appointment

Prices vary, please inquire
Individual
Special
Tours
by Appointment
Guided Tours by Appointment
Tours in English
Tours outside open times
Scientific tours
More Info
Visitors of foreign languages can also book guided tours in English.
Special tours require prior registration and consultation with the staff of the Zinnwald Visitor Mine.
Individual guided tours can be booked for groups of 10 or more people.
Individual
Special
Tours
by appointment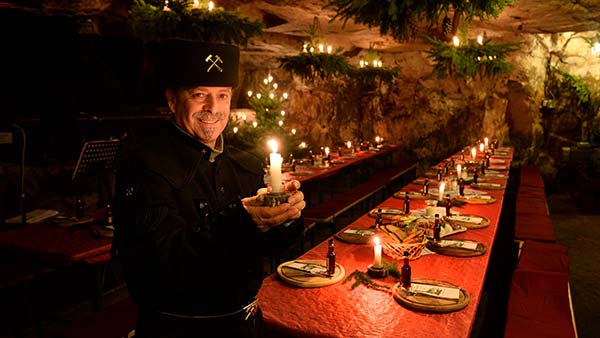 An Experience
with
culinary
delights
–
at
the miner's
last
shift
b
efore
Christmas
Appointments for individuals


(Registration required):


December 2, 9 and 16 2023




12:00 a.m. and 4:30 p.m. each day

dates

on

request, please call

 

Marco

Möller

:


+49 172 34 12 555
Adults € 39.00
More Info
The miner calls the last shift before Christmas "Mettenschicht". With Christmas songs, food and drink we bring this tradition to life. In a rustic lounge we serve you a typical miner's dish and a selection of hot drinks. The entrance also includes an underground guided tour and a souvenir to take away! Experience Mettenschicht and get in the mood for the Christmas season.
A maximum of 50 people can participate per group; individual dates for groups of 15 or more.
Adults € 39.00
Reduced € 34.00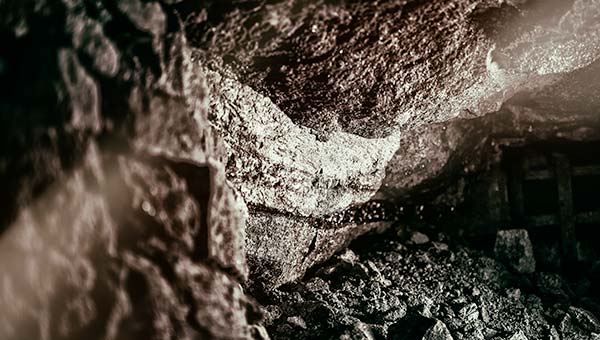 Totally
 u
nique
!
Unique occasions require an extraordinary environment! In the Deep Bünau Tunnel, Zinnwald, we offer you the opportunity to celebrate your wedding underground. The ambience of the mine creates a very special atmosphere that the wedding couple and their guests will remember for a long time to come.
More Info
Depending on your wishes, we can arrange an individual wedding for you under the ground: from the simple wedding ceremony in a small group, to the elaborate design of the mining rooms, guided tours in the miners' habit, and special catering, we offer everything.
Important: Registration takes place via the registry office of the city of Altenberg!
General Provisions
The following are eligible for the reduction:
Children, pupils, students, people accompanying groups of pupils, severely handicapped people with registration "B" and their necessary accompanying attendant
Family Card
applies to families (2 parents and at least 2 children or grandparents with grandchildren) and only if they are their own children or grandchildren and they belong to the group of people entitled to the discount
Guest Card ("Gästekarte")
Guest card of the tourist area Altenberg-Geising valid for the visit period