Hooray,
We are
World Heritage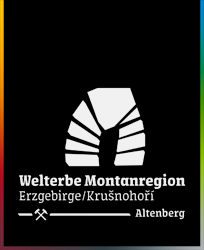 And why?
Because we are
Erzgebirge!
And why?
Because we are
Erzgebirge.
The
exceptional
u
niversal
value
of the transboundary World Heritage Site "Ore Mountains/Krušnohoří" is anchored in three criteria.
It is the innovations and the worldwide transfer of mining know-how that emerged from the Saxon-Bohemian Ore Mountains and led to significant developments in other mining regions. Furthermore, it is the influence of mining on many areas of society and the associated living traditions, ideas and ideas of the Erzgebirge culture. The organisation of state-controlled mining also influenced the economic and social system in other mining regions of continental Europe. Finally, it is also the widely visible mining cultural landscape from the 12th to the 20th century. The mining activities resulted in an unprecedented settlement structure in the immediate vicinity of mineral deposits, primarily silver, tin, cobalt and iron. Administrative, religious and secular buildings in the mountain towns bear witness to this development.
This makes the Saxon-Bohemian Ore Mountains unique in the world with its mining-related achievements and the cultural landscape developed over 800 years. The exceptional value is illustrated in 22 area-based components by mining and technological certificates as well as by landscape features. The Altenberg-Zinnwald component represents a multi-layered mining landscape, which, with preserved mining and processing facilities, demonstrate the mining and processing technologies over a period of more than 500 years. The mine Vereinigt Zwitterfeld zu Zinnwald testifies to the landlord tin mining, which was controlled over three centuries by the widely branched Saxon-Bohemian noble family of the Bünau, based in the castle and town of Lauenstein. Mining had a major influence on the economic and cultural development of the Eastern Ore Mountains. Its cross-border character and the historical connections between the dominion areas are particularly evident in the Zinnwald deposit.